Reunited with Bella Mia after 50 years!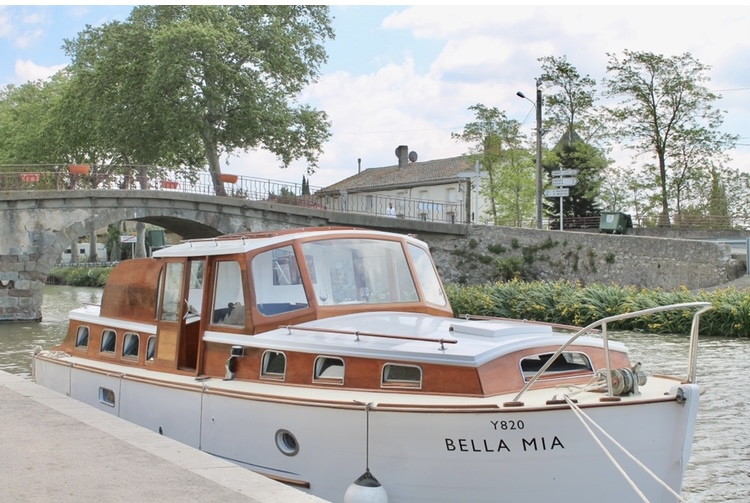 This is a bit strange! Here I am, nearing 70, and cruising down the Canal du Midi in a lovely wooden motor cruiser built on the Norfolk Broads for my father over 50 years ago…
The sense of  DejaVu is immense, as this boat was the scene of many holiday moments when I was 19, 'courting' my wife who is now sitting beside me, and our home for six months when we both came to live and work in Norwich all those years ago.
Bella Mia is based on a 35ft Captain class cruiser built by C.J.Broom and Sons of Brundall near Norwich.  Brooms, perhaps the most highly regarded of the Broads boat builders, ran a successful hire fleet in the post war years when the Broads were starting to gain holiday status, and well before glass-fibre was 'invented'.
As a family we had lots of  holidays on the broads in various 'makes' of boat, but Brooms became the favourite fleet.
My father was heavily into motor racing both with his job – PR for the BRM team and as a hobby driving single seater racing cars such a Bugatti, HWM and Cooper.
Lots of people in the racing scene were attracted to boats and  in 1961 my father commissioned Brooms to build Bella Mia.  Private ownership of such boats on the Broads was a bit of a new thing then, and  Brooms were leading the field.  In arriving at the exact specification for Bella Mia, one boat  that Brooms had recently built for a private owner stood out as an example to follow,  and that was  Tertia, another Captain class. Thirty years ago I bought Tertia and she is still a big part of our life today.
Bella Mia has oak frames , Iroko bottom and Mahogany topsides and was originally fitted with a BMC six cylinder side-valve engine for smoothness.  The wheelhouse originally had collapsible windows so that the whole top could be taken down for going through really low bridges, but my father had other ideas and had Brooms make a fixed wheelhouse with a small sun deck just aft of this. An outside helm position was considered too difficult and expensive.
The forward cabin arrangement included a small double bunk and  washbasin 'en-suite', and a separate compartment  with sea loo and washbasin..  The generous aft saloon  doubled as the other cabin , and the galley led out onto the aft cockpit  or 'backyard' as we called it.   Always berthed at Brooms yard, we spent many a year cruising the Broads and when my wife Margaret and I  moved to work in Norwich we lived on Bella Mia for six months in the summer of 1963 whilst we were looking for a house to buy.
Eventually my parents decided to sell Bella Mia, downsizing to a two berth wooden boat built originally by Jenners of Thorpe, eventually ending up on the river at Stratford on Avon, close to where they lived.
Bella Mia passed through a number of hands through the years and having bought our own boat by then we kept a watchful eye on its progress.  When it appeared on the moorings at our Barton Turf  boatyard we started to get to know Jon and his almost obsession with returning Bella Mia to its former glory. How good to know that he has eventually achieved this.
Jon Alport writes…I first saw Bella Mia in July 1999 but it was nearly a year before Melanie my wife and I finally bought her. Moored at Ferry Marina, she looked tired and unloved but what a fantastic looking vessel.
To us GRP boats have always looked the poor relation and as Bella Mia sat alongside her modern plastic counterpart aptly named 'BeeJay' we were initially surprised by the relatively small sum it cost us to be buy this piece of Broads history. Little did we know how much we would be spending on her over the years to bring her back to life!
Our purchase coincided with a very busy part of our lives, bringing up our three children in a village near Saffron Walden. Bella Mia quickly became part of the family and we would find ourselves escaping to another era as often as we could.
The curved ceilings, rich mahogany bulkheads, chrome fittings and bakerlight switches made Bella Mia feel like a cosy Gypsy caravan, but our views were of the stunning Norfolk Broadlands. To us it seemed perfect that Bella Mia and other classic boats were all contributing to maintaing the timeless landscape of the stunning Norfolk Broads.
Many hours were spent playing cards or Ludo or reading books with the children in the aft saloon. And come the evening we would turn off the lights to save the batteries and turn up the oil lamps.
This escape from the day-to-day and early family memories of simple living aboard Bella Mia  fuelled my obsession with our wonderful boat. I would end up doing whatever it took to restore this old lady to her former glory but oh did she push me to my limit.
The straw that nearly broke the camels back was a phone call I received in April 2005 when I was on holiday in Ireland. The boat was sinking…once out of the water and in the marinas wet shed we found that years of neglect and poor maintenance meant that we found rot in many crucial places and our options were clear, make it right or put the chainsaw to it! Many thousands of pounds later we had replaced most of the hull under the waterline.
I met Peter and Margaret Rivers-Fletcher at Cox's. I had no idea that their Broom Tertia (sister ship of Bella Mia) was also moored there. Peter introduced himself one day and that was the start of a great friendship.
Brooms clearly built their boats to last. Structurally Bella Mia was very sound. We replaced all roofs to make the interior water tight. The decks were replaced too. Cox's then helped by installing a dedicated wet room with shower and separate heads. Then I set to restoring the Mahogany interior. All the mahogany doors and drawers were removed and taken home to our barn for sanding and re varnishing. At one stage I was sure that most of the boat was in bits in my barn.
In April 2013 Melanie and I decided to buy La Souqueto B&B .We bought a place very near the Canal du Midi. Bella Mia was far from finished and so a rush was on to complete her and then take her down to France by low-loader. We were lucky enough to book a space in Cox's shed so I could work on her under the boat builders supervision. It took the Cox's team a further 3 months to complete her!
By mid july 2013 our beautiful boat was sitting on its mooring at La Porte Minervois just a few minutes from La Somail. Our stretch of the Canal is just so wonderful. We are approximately 50 miles from the nearest lock and so we can cruise all year round. It's still a novelty to enjoy over 300 days of sunshine.