Celebrating 10 years in the Languedoc, S W France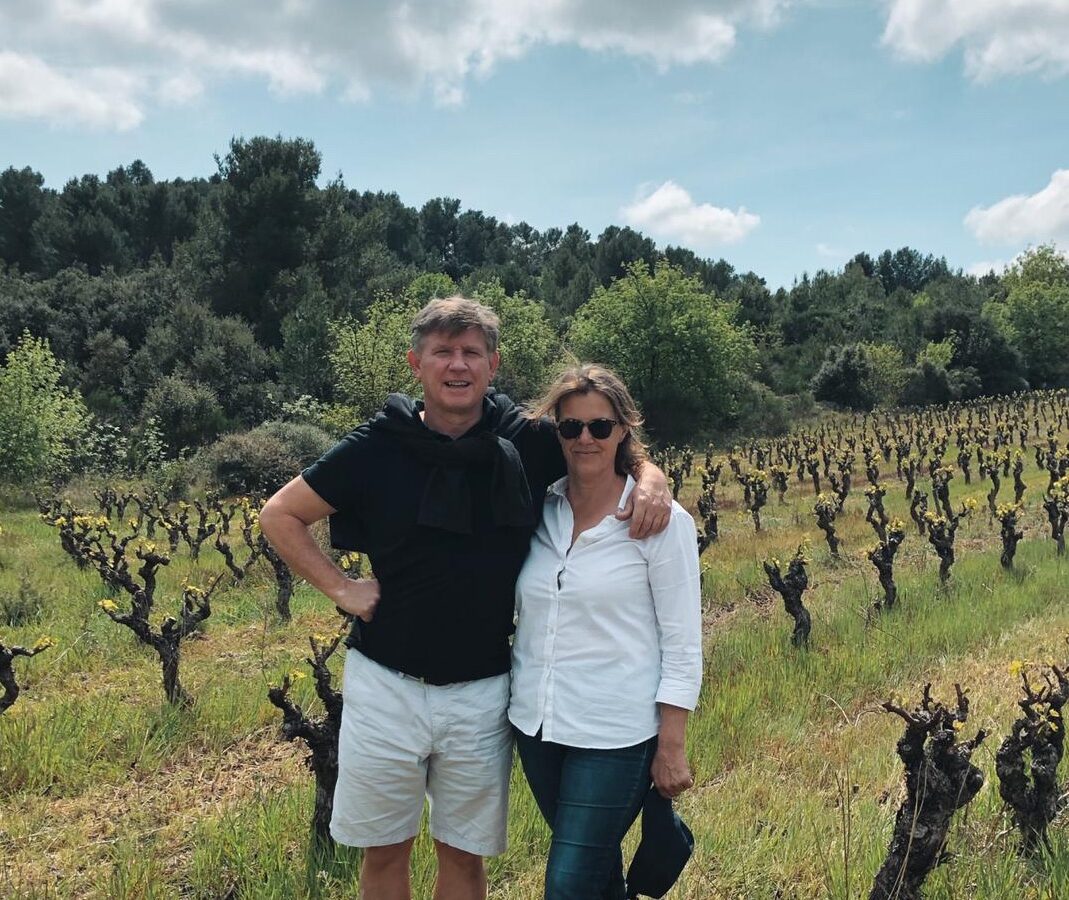 We have lived in France for 10 years! Moving to the Languedoc, establishing a business and growing it organically has given us a real sense of achievement.
A new start!
In July 2013 we sold our wonderful home in a lovely village near Cambridge for a new life adventure in South West France. Mel and I had become disillusioned with our working life. The commute into London from North Essex became too much, and we needed a complete reset.
Unfinished business…
In truth, we felt that we also had unfinished business…In 1989, a year after we married, we left our jobs in London, travelled to Sydney, bought a camper van and fell in love with Australia. When we arrived back at our house in London, nearly a year later, we immediately started the process of immigrating to wonderful Aus. But, within a few weeks of returning, I was offered a great job at a Soho based Design practice. Shortly after, Mel landed a position as Interior designer at a leading design consultancy!! So, that was the end of that! Well, that's what we thought.
Twenty three years and three children later, living in north Essex, we found that we were spending more and more time to searching French properties and exploring how we may be able to earn a living from a potential new life in France. Two out of three of our children were now at University and the time felt right to start planning for our future as empty nesters.
Planning our future.
We knew we wanted to live in France, but WHERE was the next big question. Australia was just too far away from our extended family. As you are probably aware, the Brits are consumed by the weather! Our starting point was where does the sun shine the longest in France? Not only from a personal perspective, but a holiday destination point of view. Research had clearly shown that the quickest way of establishing a business in France and joining the French Tax system was by offering holiday accommodation, a B&B or house with Gite. Why was this important? Well, so we could receive the Carte Vital and plug into France's superb health system. We had no idea that BREXIT was looming and that this decision would ultimately allow us to remain in France on a continual basis for at least 10 years.
Where in France would we choose to live?
The Atlantic coast near Bordeaux was a starting point for us. We had some fabulous spring and summer holidays near Arcachon. The main downside was that autumn and winter months were cool and damp and so we extended our search to the Dordogne and beyond. We didn't want to be land locked either, close to a lake or river would have been preferable. We were drawn to the Mediterranean but concerned that the cost of properties would be prohibitively high. Per chance, whilst surfing the net, we found a simple but beautifully written website that introduced a Town house for sale privately, in a small medieval village in the Languedoc, South West France. We had heard of this area but had absolutely no idea of how stunning this Department was and how well positioned too. Oh, and it boasts 300 days of sunshine a year!!!
Eureka! We found our new home.
We took our first flight from Stansted to Carcassonne in October 2012. And, within an hour of landing we were in Mirepeisset viewing this wonderful house. We spent the next few days exploring the Languedoc region, and loving it. It had everything we wanted – the authenticity, the sunshine, affordable housing, stunning landscapes, Mountains, the Med, the Canal du Midi, easy access to four cities and seven Airports. Oh, and less than an hour to the Spanish border and the Pyrenees. Barcelona, a three hour drive away.
We bought La Souqueto B&B in July 2013, and as they say, the rest is history!
Brexit was a disaster for those of us who planned on building a small business in France for our children to one day have choices to where they could live/work throughout Europe.
Because we had been paying French taxes for three years when Brxit struck, we were awarded a rolling 10 year licence called a 'Carte de Sejour', which allows Mel and I to live full time in France until 2031, and beyond we hope.
Ten years on…the region now called Occitanie continues to flourish. Its still quiet compared to Provence but more and more people now make this their holiday destination rather than passing through on their way down the A9 Motorway to Spain. La Souqueto B&B has flourished, guests from all over the world continue to return and stay longer each year to continue exploring this area. We have never made so many friends. And, never felt so European!
Making new friends…
To meet the demand for holiday accommodation in the Languedoc, we have created an independent, self catering apartment at La Souqueto and completely restored a Wine Growers house in the most beautiful village of Babio, near Minerve and will be renting it as a Gite starting Spring 2024.