All aboard for a Canal du Midi cruise!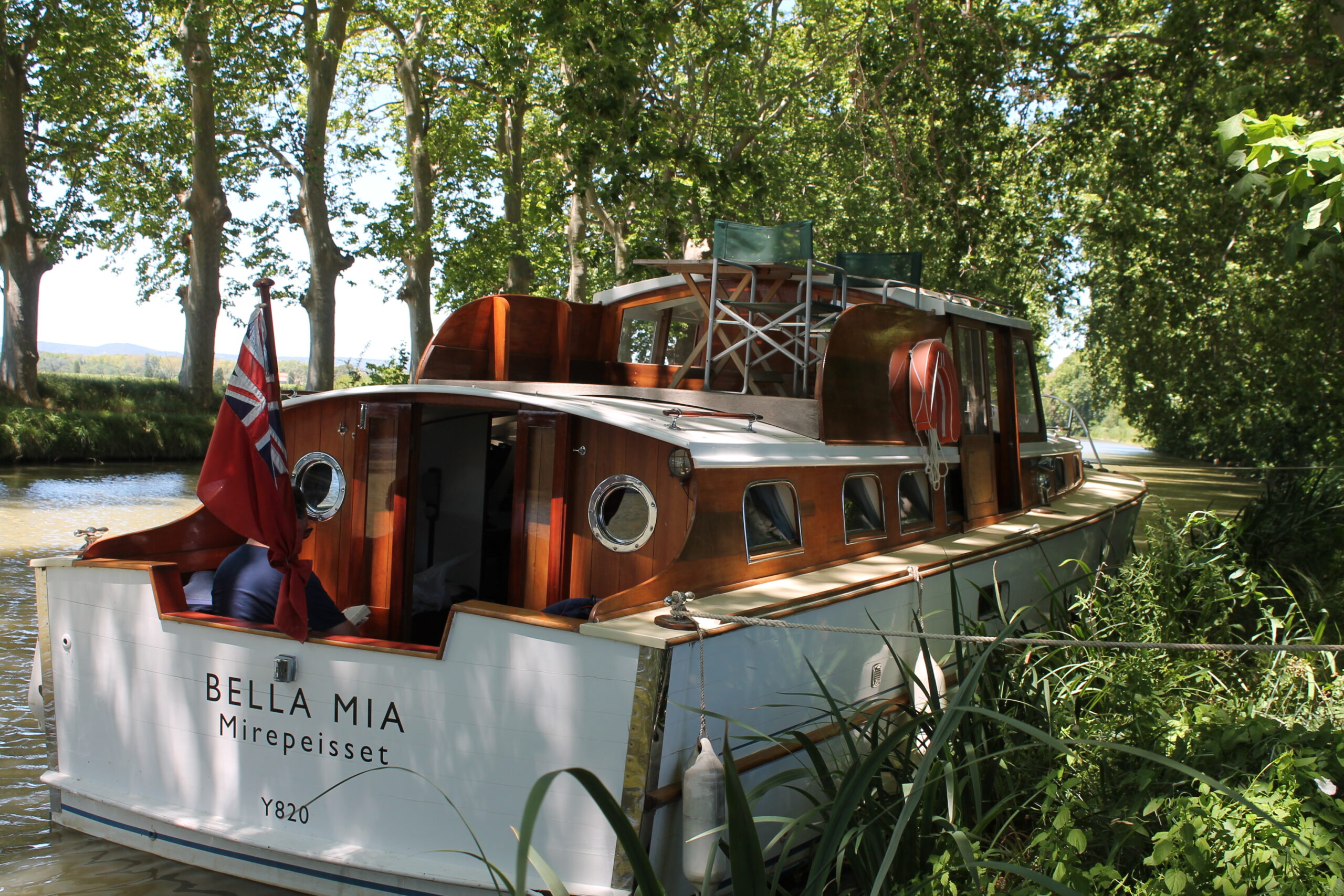 Combine your stay at La Souqueto B&B with a Canal du Midi cruise!
Over the last year we have responded to our guests requests by extending the services of our boat Bella Mia from short day trips to piloted 'stay overs'. Combining a stay at La Souqueto B&B with an extended two or three day canal du midi cruise is a unique service that has been really well received. We also offer trips to various restaurants along the canal du midi for lunch and return or evening meal and stay over-return the following day.
In April our son Josh and I took a cruise to Agde on The Med for the boats annual maintenance and hull painting. We used this seven day return trip as a reccee for future canal du midi cruises that we could offer our guests. I thought that it would be interesting to show a selection of pics taken in sequence as we toured the southern stretches of the canal.
We left Porte La Robine where Bella Mia is moored on a beautiful early April morning and headed towards Beziers. This would take up to 6 hours passing through Argeliers, Capestang, Poiles and Colombiers. Our plan was to reach the impressive six locks called Ecluses Fonseranes by early evening where we would moor up for the night. We encountered stunning scenery, impressive landmarks and very pretty villages during our first day. We saw only one boat in the first three hours but we were not alone: Kingfishers escorted us throughout the day!
We were intrigued by the barges moored along the canal where hardcore boaties lived throughout the year. Some were beautifully restored others waiting for a lick of paint. Communities made up of artists,sculptors and writers, retired couples and young families…fascinating.
Early the following morning we took the famous Fonserannes staircase locks. They consist of 8 chambers now operated by a lock keeper. It's hard to believe that these locks were originally built in the 1700's and they are the third most popular tourist destination in Languedoc. We were at the front of the queue and shared the lock with three other boats all enjoying a canal du midi cruise. It took us half an hour to descend the staircase. Great fun!
We traveled in convoy with our new found friends for a few hours before heading off into the sunset along the stretch of canal with a stunning nature reserve surrounding us. We reached the round lock at Argde just as it was closing, so we moored up there for the night. The following morning we left the canal to join the Herault river and head down to the Allemand boat yard. What an adventure!!