Queribus & Peyrepertuse Castles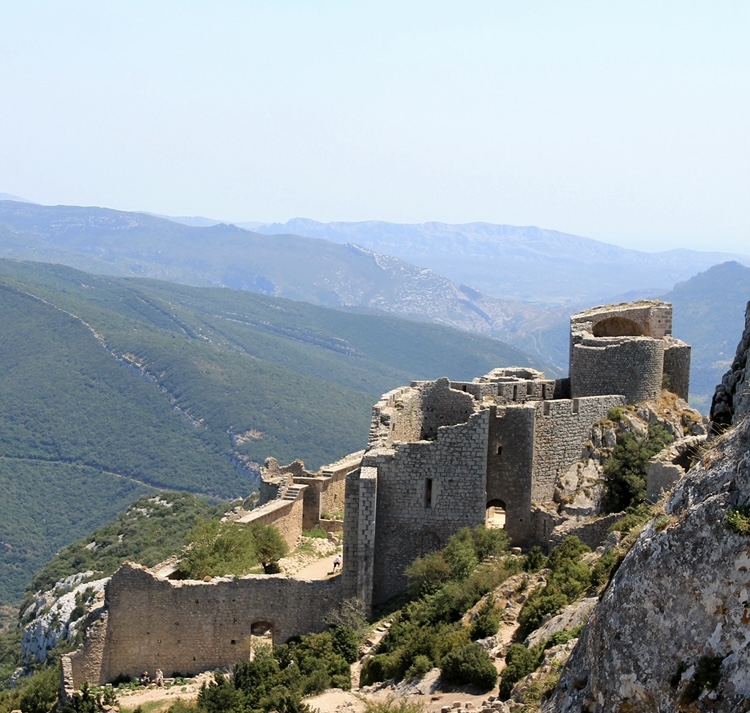 Explore the history behind Occitanie by visiting Queribus & Peyrepertuse Castles.
Peyrepertuse Castle
Peyrepertuse Castle is a ruined fortress and one of the Cathar castles located in the French Pyrenees just half an hour from Perpignan and an hour from La Souqueto B&B.
Built by the kings of Aragon in the 11th Century
The name Peyrepetuse is derived from Pèirapertusa, Occitane meaning Pierced Rock. The castle was built in the 11th century on a site dominating the Corbieres and the sea.  The main part, resembles the prow of a ship, running along the top of an 800m (2,600 ft) high crag. The castle ruins are impressive, set high on a defensive crag.  From the approach road it is difficult to see where the rock stops and the castle starts.
From the carpark be prepared for quite a walk to the main body of the Castle, but its well worth it! The views are just incredible and there's a lot to see.
Queribus Castle
Queribus Castle, just 4 kilometres from Peyrepertuse started life around 1000 as a 'Spanish' castle. In an extremely dramatic location on top of a rocky pinnacle in Occitanie, once known as Languedoc-Roussillon, the castle comprises a donjon (keep) and a chapel, and various other rooms and remaining defensive walls.
The castle was one of the last refuges of the cathars, who arrived here after being driven from Montsegur in 1244. It was 11 years later in 1255 that they were forced from Queribus. Even at that point they avoided the army sent to defeat them – the surrender of Chabert was accepted instead – and many escaped quietly across the border to Spain, thus avoiding the terrible penalties exacted on Cathars elsewhere.
Later it was to become one of the five defensive castles in the region that defended the border with Spain – a role that continued until the border moved southwards.
Once you reach the carpark its just a short walk up a path to the entrance of the Castle.