Spring & Autumn in the Languedoc, S W France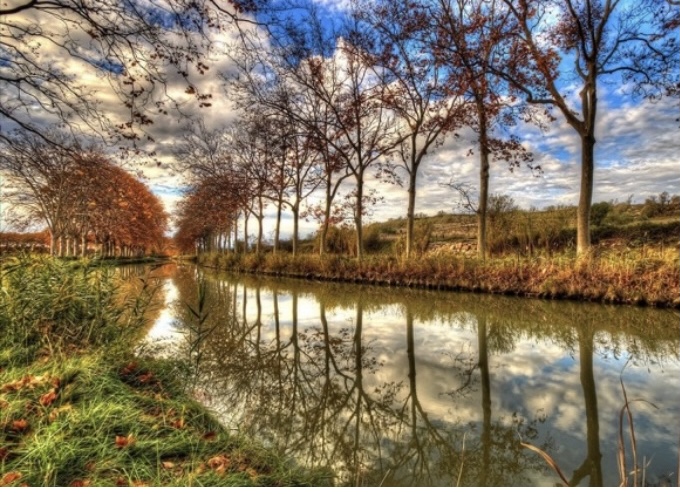 Occitanie, 300 hundred days of sunshine!
Mel and I live in the Languedoc, South West of France the whole year. We chose this area because it had the perfect combination of 300+ days of sunshine with an abundance of things to continually see and do here.
The shoulder months…
We remind our guests staying at La Souqueto B&B and indeed those that look to holiday in our Apartment and Gite, that the 'Shoulder months' are just as beautiful in the Languedoc as July and August.
Experiencing the ever changing colours of the flora and forna that the four seasons in Occitanie offer, is a must. April to June are lovely months with an average temperature of 22 to 24 degrees. Perfect for walking or cycling the myriad of tracks and paths. We usually organise our 'long weekends of wine' events in May each year. It's an opportunity for up to 10 people to combine sampling quality wines produced by local 'under the radar' domains with outstanding food.
Kayaking on the River Orb
In June our guests start to head off for beach days to any one of 5 destinations along the coast, only 40 mins from La Souqueto B&B. We also head to Roquebrun for fun and frolics on the river Orb, hiring kayaks or just swimming in the gin clear waters. June is also a great time to explore the Cathar Castles that line the border between France and Spain.
July and August is hot in the South of France but very few times has the heat prevented us from doing things. The locals here head up to the lakes above St Pons if ever it gets too warm. Don't forget, there's always the rivers Cesse behind La Souqueto B&B (and our Apartment) or our Gite's swimming pool to cool off in.
This year September and October have been beautiful. Perfect for long walks or bike rides. Restaurants still open and Beaches completely empty!
Fancy skiing at Christmas? 
Christmas in the Aude and Herault Departments is just fabulous. We spend the festive period with our three grown up kids, Josh, Amelia and Jasper here. Each year we combine a walk in the sunshine somewhere in the foothills of the Mountains Noire, with a trip to a City, last year was Girona. Then, its off to the Pyrenees for a couple of days skiing!
This Christmas we will probably take our boat for a trip on the Canal du Midi, then a few days in Cadeques (on the Spanish coast) then off to Barcelona for a day trip.
Let us help you plan your holiday in the Languedoc for 2024.